Let There Be Light: Dynamic Lighting for Churches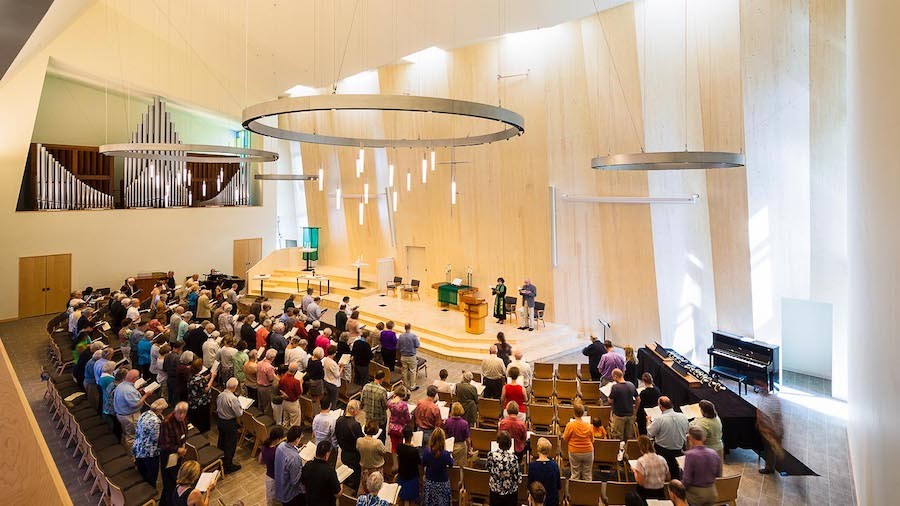 Lighting Fixtures & DMX Control Systems for Houses of Worship
Churches can be tricky to illuminate due to their wide rooms, high ceilings, and need for flexible and controllable lighting. During an event, a house of worship should not be overly bright like a retail store, but shouldn't be so dim that people can't read the text in their hands. A church's lighting should also be a source of inspiration and contemplation, where people can reflect on life and feel connected to others. 
Whether a church was built in the 1800s or this year, all churches need a pleasant atmosphere and a flexible and controllable lighting system. Recently, churches are replacing incandescent bulb-based house light fixtures with white or full-color, RGB, LED house lights. This creates an immersive experience and saves money on bulbs and lowers the electrical bill. LEDs that enhance musical performances, while more traditional churches may want a brighter way to illuminate historic fixtures.  
No matter your style, you need to work with a professional that understands church sanctuary lighting and its unique needs. Here's how a church lighting expert can help your parish in the Spokane, WA, area. 
SEE ALSO: Our Project Gallery: Christ Lutheran & Lakeshore Church 
Designing Church Lighting 
A professional lighting design considers the human experience in a space. It isn't just about installing a grid of lights to provide illumination; it factors in shadows and brightness levels and how the two influence an interior. We design lighting systems with a variety of fixtures and color scenes to accentuate a church's architecture while providing house and platform lighting.
Choosing the Best Fixtures 
Many houses of worship have lighting needs that standard fixtures can't meet. Ceiling characteristics can limit lighting options, and there may be an aesthetic motif you want to be reflected in the lighting. 
In more traditional churches, we install pendant sanctuary lighting alongside recessed and track lights for ample brightness. You may want to highlight artwork and onstage sets, which can be done through spotlighting techniques. 
Contemporary churches often use color-changing stage lighting for captivating services and musical performances. We use color-tunable house lights by brands like Chroma-Q and Chauvet that can be intelligently controlled to achieve the color and brightness you desire. Stage lighting, backlighting, linear lighting—a combination of fixtures creates a dynamic, visually appealing setting that directs attention to the platform. 
Centralized Control 
More lights shouldn't mean more complexity. We can simplify your sanctuary lighting system with a centralized control system that makes lighting easier to manage for staff and volunteers. 
Through one console, you can adjust groups of lights and customize the color and LED brightness while creating scenes during songs and events. Custom wall keypads can offer buttons like "Day" and "Night"—or whatever you need—to activate light settings according to certain events.  This allows people to simply walk in the room and turn on the lights. With automation, we can program lights to follow a schedule, so you'll save energy on monthly utility bills, too! 
Is your Spokane-area church ready for new and improved lighting? CCI Solutions designs, installs, and programs custom lighting systems unique to houses of worship. Check out our work here and contact us to get started on your new lighting system today! 
Stay Informed
When you subscribe to the blog, we will send you an e-mail when there are new updates on the site so you wouldn't miss them.